The German aristocracy was disproportionately well represented in the military resistance and conspiracy against Hitler. For example, the most famous would-be assassin was Claus Count Stauffenberg. Others who volunteered for suicide-attacks against Hitler were Axel Baron von dem Bussche, Georg Baron von Boeselager, and Rudolf-Christoph Baron von Gersdorff — to name just a few. Counts Moltke and Yorck von Wartenburg, and Count Schulenburg were important civilian figures in the conspiracy. Many lesser noblemen were also highly significant figures, for example Henning von Tresckow and Carl-Heinrich von Stülpnagel. I could list literally hundreds of German aristocrats who were members of the Resistance.
The question is: Why was the German aristocracy so prominent in the Resistance? There were two factors: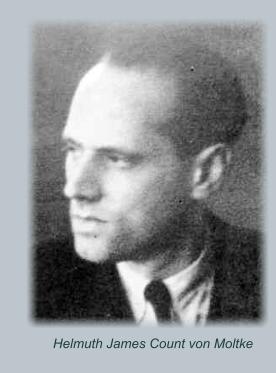 First, the aristocracy in Germany at the time firmly believed that a title of nobility brought with it an obligation to lead and to take responsibility for the fate of the nation. While Socialist and Communist resistance groups depended on organizations and were thus largely helpless once their organizations were shattered by the Nazis, the aristocracys resistance was individual. The majority of those who had formerly voted for the leftist parties became disoriented once these parties were banned and so they were co-opted by Hitlers early successes—by jobs, higher standards of living, victory. The aristocracy, in contrast, saw the need to rescue the nation from misgovernment as their hereditary duty—a personal obligation completely disconnected from party affiliation or the existence of an organization.
The second reason the aristocracy appears to be so over-represented in the resistance is that the only resistance group with a chance of successfully bringing down the Nazi regime was that group that controlled some degree of force —i.e. could command troops, had access to explosives and the apparatus of government. This meant the officer corps of the army. The Communists and Socialists had a pacifist tradition and so were hardly represented in the Officer Corps at all. In contrast, the aristocracy had for generations been the very backbone of the German officer corps. Thus the aristocracy dominated the military resistance, that strand of the resistance that made the assassination attempts and carried out the coup attempt.